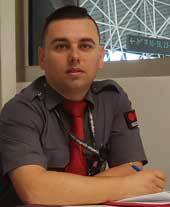 Location: Zagreb, Croatia
Years with Securitas:
- Security Officer 2002-2007
- Firefighter 2007-2013
- Aviation Supervisor 2013-present
My current role:
Work description: Supervisor at client site within Aviation Security
Topic studied and where: Aviation Security, Montreal, Canada


Why did you apply for the Scholarship?
I thought that this scholarship would be an opportunity for me to improve my knowledge and experience in aviation security. What I would learn I could bring it back to my working environment and share with my colleagues.
What did you learn/gain from the study visit?
I was shadowing our operational management staff on site and observed how it all was run in a larger scale than I am used to. The operational best practices will come in handy as the airport where I work is enlarged to shortly receive double the amount of passengers it receives today.
How will you share this knowledge/ experience within your organization?
During the scholarship visit I was gathering information and experience from Securitas security officers working on site. I will use the knowledge about maintenance when starting a project at the site where I am working.
Get in touch
Want to know more? Share your questions and thoughts in this form and we'll answer as soon as we can.