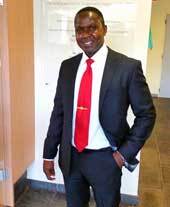 Location: Bern, Switzerland
Years with Securitas:
- Security Officer 2001-2003
- Group chief 2003-2009
- Supervisor Assistant 2009-2012
- Senior Security Officer 2012-present
Current role: In charge of team handling consular services at a client site.
Topic studied and where: Conflict and crisis de-escalation, Brussels, Belgium

Why did you apply for the Scholarship?
It has long been my wish to improve my knowledge about crisis management, de-escalation and handling the human factor in difficult situations. When our project manager mentioned the Melker Schörling scholarship, I seized on the opportunity and applied.
What did you learn/gain from the study visit?
I learnt about different crisis management and de-escalation tactics, for example with regard to the March 2016 terrorist attacks in Brussels, how to deal with post-traumatic stress PTSD, and about explosives detection. The days I spent in Brussels gave me an opportunity to meet wonderful experts from different fields of security within Securitas.
How will you share this knowledge/ experience within your organization?
I obtained knowhow and training material, which I will discuss with our manager so that it can be included in our training program to further improve our collective knowhow on how we deal with potentially dangerous situations.
Get in touch
Want to know more? Share your questions and thoughts in this form and we'll answer as soon as we can.