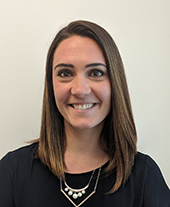 Location: Charlotte, North Carolina, USA
Years with Securitas:
- Marketing & Training Manager 2015 – 2018
- Sales Director 2018 – present
My current role: Responsible for training field sales and operations teams in Electronic Security and Remote Guarding capabilities. Managing the presale processes that include technology and Remote Guarding.
Topic studied and where: Remote Video Solutions (RVS) in Malmö, Sweden
Why did you apply for the Scholarship?
To expand my knowledge in our capabilities worldwide. To get a better grasp of our capacity at the global level. I also wanted to understand how the Securitas Operation Center (SOC) in Malmo leverages their Experience Center to demonstrate our core services in a meaningful way to clients and vendors.
What did you learn/gain from the study visit?
By meeting with the European team in Malmo, I learned how we approach the market, assign responsible parties and ultimately build relationships with our clients as a trusted partner. I participated in an Experience Center demonstration where the focus was on the services being offered, not the equipment being used. I would like to ensure our sales team across the US, not only in the SOC, also focuses on the service and its value over the equipment.
How will you share this knowledge/ experience within your organization?
The main take away is that we have to continue to educate our clients on what we do and how we approach business. Securitas must guide our clients, focusing on the services provided and teaching them about the tools that we use to provide that superior service.
Get in touch
Want to know more? Share your questions and thoughts in this form and we'll answer as soon as we can.