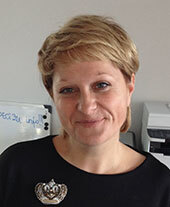 Location: Riga, Latvia
Years with Securitas:
Sales Team Leader 2016 – present
My current role: My job entails organizing, managing, developing and defining job responsibilities. Coordinating the organization's sales and marketing operational work processes and procedures.
Topic studied and where: Development of services and solutions for clients to promote customer satisfaction and long-term cooperation in Malmö, Sweden.
Why did you apply for the scholarship?
I applied for the scholarship because I wanted an opportunity to learn more about my colleagues' experiences of providing services and solutions for clients to promote customer satisfaction and long-term cooperation and to enhance Securitas' image as a professional security service provider.
What did you learn/gain from the study visit?
I learned about different ways and techniques to get the most effective and successful offers for security services, long-term models for cooperation with customers and service upgrades according to today's technological opportunities.
How will you share this knowledge/experience within your organization?
I will offer to use the acquired knowledge to contact and consult with my colleagues on their experiences. In the case of various non-standard solutions, I will use the existing forms of bundled offers as a sample, gradually improving the structure of our sales team and adjusting the way our work is organized following the Swedish model. This means that the salesperson finds clients and determines what their needs are and then introduces the client to a colleague from a different department who has the technical knowledge to prepare the technology solution/offer. The salesperson only supervises and maintains contact with the client prior to signing the contract.

The opportunities and experience offered by the Malmö Experience and Research Center have been used to introduce customers to today's security services and Securitas in order to deliver a much wider range of services to encourage customers to choose multifunctional solutions.
Get in touch
Want to know more? Share your questions and thoughts in this form and we'll answer as soon as we can.