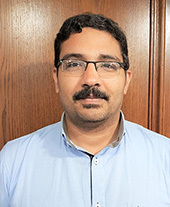 Location: Giza, Egypt
Years with Securitas: Various positions since 2009: Site Admin, Site Manager, Branch Coordinator, Branch Manager, Quality Coordinator
My current role: Customer Care Centre and quality assurance Manager, Downtown Branch Manager, since 2018
Topics studied and where: Conflict and crisis de-escalation, loss prevention in London, UK.
Why did you apply for the Scholarship?
I wanted to participate in an international study to obtain an in-depth understanding of conflict and crisis management internationally. I wanted to develop relationships with a global team, discussing the accountability that each of us has within the operations and the valuable technology utilized to allow us to succeed. I wanted to be an ambassador for my country, delivering a good message to other colleagues.
What did you learn/gain from the study visit?
I learned about different crisis management and de-escalation tactics, new preventive technology, learning and development programs, intelligence services and innovation strategies. The time I spent in London gave me an opportunity to meet wonderful colleagues from different fields/departments. The site visits were a marvellous experience, watching and learning about how we use different methods.
How will you share this knowledge/ experience within your organization?
I gained a lot of ideas, training materials, new technology ideas and new strategies which I will discuss with our Country President to determine a time frame for implementation. I will also share this great experience with my team/colleagues through training sessions/presentations.
Information about other scholars
Read more stories from previous scholars to learn more about the Melker Schörlig Scholarship.