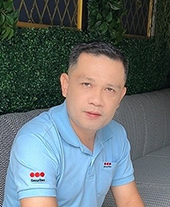 Name: Akin Phaichayont
Location: Bangkok, Thailand
Years with Securitas:
- Branch Manager 2017-2019
- Area Manager 2020-Present
My current role: Expand Securitas' business in Thailand. Look for and develop business opportunities, conduct security risk assessments to support potential and current clients, provide solutions and develop contracts. I collaborate with the Country President and the country team on all aspects of business expansion.
Topic studied and location: Mobile Patrol and City Patrol in Stockholm, Sweden.
Why did you apply for the Scholarship?
This was an excellent opportunity to deepen my knowledge of specific services to gain a better understanding and add value for clients, which will help to improve our operations and business results in Thailand.
What did you learn/gain from the study visit?
I visited several branch offices in Stockholm and the Operations Center. They had a fantastic operations team and were very well organized. It was also good to see the planning tools. Through meetings with the head of the operations team, I also learned about their business plan and offerings. My visit also included meetings with our senior management team, and I gained more in-depth knowledge about sustainability, the brand and Toolbox, and business ethics and compliance. These are all essential to Securitas' ability to add value and make a real difference in One Securitas.
How will you share this knowledge/experience within your organization?
I will schedule monthly meetings with the team to present and discuss possible steps forward. I plan to train branch managers in the TBMT (Thailand Branch Manager Training) program and educate clients simultaneously. I will then prioritize plans to implement mobile service. I am working closely with the Country President to discuss and find solutions to support the team further.
Information about other scholars
Read more stories from previous scholars to learn more about the Melker Schörlig Scholarship.