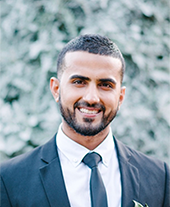 Name: Muhammad Adeel
Location: Brisbane QLD, Australia
Years with Securitas:
- Site Supervisor: 2019-2021
- Operational Support Manager: 2021-Present
My current role: I was promoted to the position of Operational Support Manager in early 2021 from Site Supervisor to support Securitas' values, purpose and objectives and ensure profitability, while meeting the clients' expectations.
Topic studied and location: Building and maintaining relations (client, internal and third parties), process efficiencies, managing business campaigns and transitions, in Frankfurt, Germany.
Why did you apply for the Scholarship?
I wanted to benefit from global exposure to help myself develop and hone my professional skills and ultimately bring this knowledge to my local teams in Australia.
What did you learn/gain from the study visit?
My hosts in Germany prepared an excellent study and activity program, encompassing four types of client environments: corporate/banking, data center, gatehouse/manufacturing and aviation services. The topics studied included employee engagement and development services, building and improving business relations, integration of remote and guarding services for clients, etc.
How will you share this knowledge/experience within your organization?
I will have a debrief session with my senior management to share my feedback and learnings. I will also promote my experience and the Melker Schörling Scholarship among my local teams via Workplace with the aim of attracting security officers across the industry to tackle the manpower shortage we are facing in Australia.
Information about other scholars
Read more stories from previous scholars to learn more about the Melker Schörlig Scholarship.