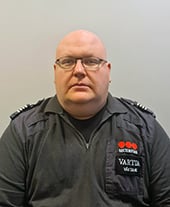 Name: Aki Lehto
Location: Oulu, Finland
Years with Securitas:
- Security Guard 2015–present
- Head Guard 2019–2021
- Shift Supervisor 2021–present
My current role:
Work description: Shift Supervisor at the Port of Oulu
Topic studied and where:
The differences and similarities in the field of security work at the largest port in Europe, the Port of Rotterdam in the Netherlands.

Why did you apply for the Scholarship?
I wanted to deepen my knowledge of security work in the harbour environment, and this was a once in a lifetime opportunity to visit the largest port in Europe. It was also a great opportunity to meet experienced colleagues in person.
What did you learn/gain from the study visit?
I learned a lot from the study visit. There is a great deal of similarity when it comes to our work and practices, but I also got a lot of insider information from experienced professionals who have mastered their skills for years. Here in Oulu, we may not experience all of the things that occur at a large port or on the same scale, but we are now prepared if those things do happen.
How will you share this knowledge and experience within your organization?
I'm going to have a meeting with our client and share my knowledge with them, and hopefully I can offer help and ideas to develop the growing Port of Oulu, with our strong team of Securitas professionals by their side keeping them safe. I'm also sharing my new knowledge with our local office and my team. I will encourage people to apply for the scholarship to expand their knowledge.
Information about other scholars
Read more stories from previous scholars to learn more about the Melker Schörlig Scholarship.