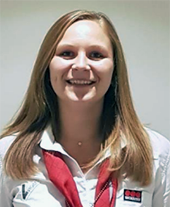 Name: Laura Cazenave
Location: Waterloo, Belgium
Years with Securitas:
- Security Guard & Dog Handler 2015–2019
- Security Guard 2019–2022
- Assistant Supervisor 2022–present
My current role: Assisting the supervisor with the day-to-day operations and the team. As a Project Supervisor, I work on security projects with the site's Regional Security Management. And as a Junior Intelligence Analyst, I provide reports and bulletins to our client as well as supporting the operational teams with monitoring events/areas.
Topic studied and where: The agility of the Securitas teams at a global payment card company in Poland, following the war in Ukraine, impressed me. Especially how they dealt with the crisis and how they managed to contribute to the evacuation of Ukrainian employees.


Why did you apply for the scholarship?
This was an opportunity to expand my knowledge and learn from colleagues abroad. Knowledge is power, which could only add value to my professional and personal life.
What did you learn/gain from the study visit?
Their mindset and persistence is admirable. They're not hesitant. Not with the current crisis in Ukraine, nor within Securitas itself. I learned more about datacenters, the security tasks at different sites and how they approach day-to-day challenges. I also learned how they quickly managed to put together an evacuation operation with their client(s). I've seen how they implement and maintain the values of Securitas and stay true to these values, even in difficult situations.
How will you share this knowledge/experience within your organization?
As I learned a lot about their hard-working mentality and their desire to help others, this is what will be communicated the most when I discuss this study trip.
Information about other scholars
Read more stories from previous scholars to learn more about the Melker Schörlig Scholarship.