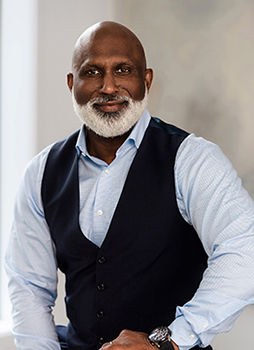 Data plays a fundamental role in the modern economy and, consequently, securing this data is becoming increasingly vital. With global data volume expected to reach 175 zettabytes by 2025, data center demand is skyrocketing. As such, it's critically important to safeguard data centers against potential threats.
To protect these facilities – and the world's digital footprint – Securitas recently launched its Global Clients Data Center Group, which is part of the company's broader Global Clients Program, supporting our global clients with solutions and technology combined with international security expertise.
At present, Securitas' Data Center Group secures 570 data centers in 36 countries.
"There is no business as usual within a data center," says Milton Plet, Senior Vice President. "Data centers are high-security environments with stringent operational and governance requirements. That's why it is critical to have specialized professionals who understand the peculiarities of the environment protecting and securing these facilities. Securitas excels in both technology and security, enabling us to offer a comprehensive solution for data centers."
Operating on trust
As the leader of the new Group, Milton is responsible for supporting Securitas' data center client portfolio, driving expertise, and enhancing the client value proposition on a global scale. Since 2016, Milton has overseen one of Securitas fastest growing global data center engagements transforming it into one of Securitas' premier strategic global client partnerships.
"We operate based on trust," adds Milton. "Regardless of your location or specific needs, we constantly test, analyse, and enhance our services because we understand that security in today's world remains dynamic and complex. Our clients are the lifeblood of our business, and their trust has made us successful."
Through this group, Securitas offers tailored support to help our data center clients implement the most robust and secure protection. This includes:
Global account leadership, governance, and single point of accountability
Advanced technology solutions and tools to help detect, prevent, and predict threats
Data center security expertise with a team of dedicated security practitioners who can effectively support and complement our client's security operational requirements
All of these work together toward one common goal: safeguarding the data and people within data centers.
Addressing the unique security challenges of data centers
Data centers are essential for the storage, processing, and delivery of digital information that we use in our daily lives. These facilities protect vast amounts of data generated by organizations and individuals alike, and they're central to our modern digital infrastructure. Without data centers, the internet as we know it would not exist, nor would the ubiquitous cloud.
These facilities inherently pose unique security challenges, but perhaps one of the most prevalent is the risk of human error.
Human error is the most frequent cause of downtime in data centers, making it important to minimize the number of people on the premises. Securitas' highly trained data center security specialists can handle virtually any security challenge that arises while also performing other critical duties, reducing the use of unnecessary personnel and lowering the risk of human error.
Minimizing the risk for human error
Much of our data center security programming focuses around controlling physical access and mitigating opportunities for data theft. Working in tandem with our clients, we help them adopt a security posture based upon least privilege access principles.
"Allowing access to a data center solely to clean a camera lens or update a fire extinguisher may be unwise," concludes Milton. "Our security specialists not only minimize the likelihood of errors for data center operators but also save money for our clients and help give them peace of mind."
Beside human error, data centers face potential risk from natural disasters such as earthquakes, floods, hurricanes, and wildfires, which can cause power outages, equipment damage, and other disruptions. Cybersecurity threats are also a significant concern, as hackers may attempt to steal or destroy sensitive data, install malware or ransomware, or take control of the data center's systems. Additionally, power failures or other issues with the electrical grid can lead to downtime or data loss.
With nearly 90 years of experience in making the world a safer place, Securitas sees what others miss. By combining expertise, technology, and global reach, we're able to offer unparalleled protection for data centers, no matter where they're located.