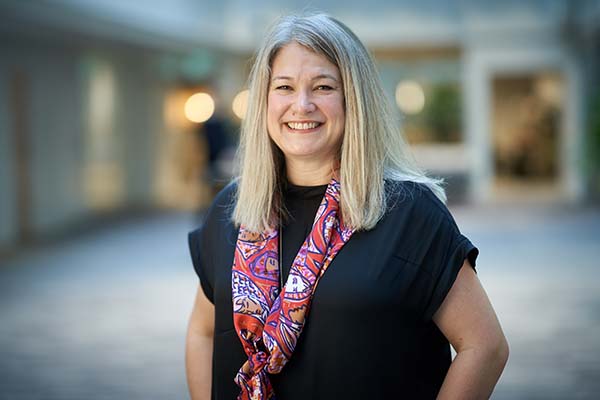 You were born and raised in Sweden, but later spent 23 years abroad in your career. What made you come back in 2014?
During my years in the USA and UK, I spent 20 years at American Express, in a variety of functions and roles – finance, IT, involved in large transformation programs – so when I was offered an interesting role in Husqvarna, a Swedish-based manufacturing company, I jumped at the opportunity to learn something different. In 2019, I left my role as CIO to join Securitas and the opportunity to learn and experience a new company and industry.
What appealed to you about Securitas and the security industry?
We are contributing to society, and we have strong values and are a purpose-driven company. To feel safe is something very universal. All our clients around the world should be able to sleep well at night, knowing their business is in safe hands. That is very important to us. In addition, we have a good strategy and are on an exciting journey that I am proud to be part of.
Though it is difficult to find comparable numbers, we know that the share of females in the tech business as well as security industry is low. The latest statistics show that about 25% of the Fortune 500 CIOs are female and this is also the percentage of female guards in the US, for example. In your opinion, how can we improve those numbers?
I believe it is important for us women in the tech and security business to be visible and act as role models. We need to tell our fellow women how exciting and intriguing this industry is. The combination of technology, science, security, and innovation is something a lot of women would be interested in, and we are working hard here at Securitas to describe what we can offer as an employer.
You've had a couple of months to settle into your new role. What are your immediate priorities?
As always at this time of the year, it is all about setting the objectives and plan for next year and anchoring this in our organization. With a potential global recession around the corner, we will continue to focus on efficiency and to standardize and automate in areas that add value to us and our clients.
What else lies ahead for you for the remainder of 2022?
I will spend time learning more about our operational business, as well as setting long-term objectives. We are in the process of implementing large-scale strategic transformation programs. In addition, we just closed the acquisition of STANLEY Security. Also, I am personally very passionate about developing our employee experience as well as sustainability, diversity, and inclusion, so this is something I would like to pursue as well.