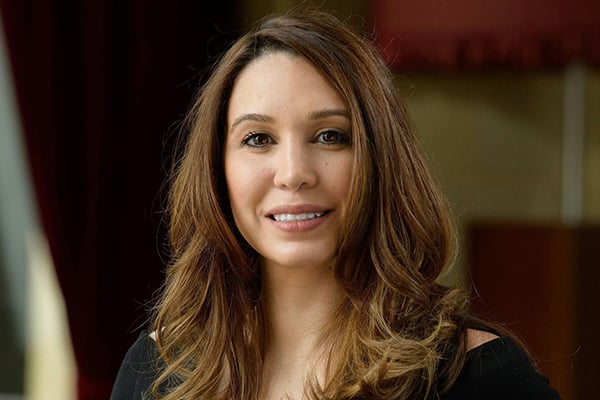 This blog series celebrates the remarkable women leaders who play a pivotal role in shaping Securitas into the company it is today. As part of this series, we're shining a light on the women who are breaking barriers and leading the way across our organization. Through their stories and professional journeys, you can gain valuable insights into life at Securitas, learn from their experiences, and uncover the tips and lessons they've gained along the way.
In this edition, meet Thea Emetlis, the country president of Securitas Australia. An inspirational and proactive leader with a "let's get it done" attitude focused on continuous improvement, Thea's leadership approach lies at the intersection of tactical and strategic.
With an academic background in law, criminology, and political science – as well as experience serving as director of investigation, legal, risk, and finance – Thea joined Securitas as part of an acquisition in 2017. She was the first financial controller (known locally as chief financial officer) and then held the role of SVP of legal and HR. Thea has been serving as the country president of Securitas Australia since January 2023.
Q&A with Thea Emetlis

What led you to the security industry?
When I left school, the security industry wasn't even a consideration or possibility. While I studied law, criminology, and political science, I supported myself with different roles in hospitality, retail, finance, tax administration, and marketing – gaining experience in different legal firms and community legal centers. Each experience taught me something different and left an impact on my journey. My passion has always been solving problems, learning, and taking that knowledge to explore something different.
When I eventually entered the security industry, I thought it would be a short deployment – I didn't "fit the mold," nor did I imagine how it could be a long-term career. Nonetheless, I was excited about what I could learn and leverage, and the challenge it posed.
My father-in-law ran an investigation, risk consulting, and security firm. At the time, he needed someone he could trust to handle some of the issues he faced. He gave me a list of 10 problems to solve and asked me to investigate the cause, come up with a strategy, and then fix them. I remember asking him, "What do I do after I finish solving these 10 problems?" It's something I laugh about now, as I think he knew I loved a challenge.
Once I finished solving these 10 problems, I found myself transforming the business and working through every area of the organization – rapidly growing and strengthening the business, improving the processes, and working with our clients. Within a few years, I also obtained further qualifications and then started working through investigations, forensics, due diligence, security operations, and working through commercial and finance. During this time, my passion for security and risk grew as I was exposed to all its different facets.
After building my expertise in these areas, I was later invited to teach masterclasses on various topics at the Australian Security Academy. At events, I noticed there weren't many female participants, but that didn't deter me from pursuing learning and working in what is still a male-dominated industry. Though the industry is making great strides toward becoming more welcoming for all, it has been a journey. Resilience, humility, and humor – as well as having an empathetic but a thick skin – have been key.
How have others encouraged you throughout your career?
Over the years, mentors, colleagues, and industry experts who are predominately men have been my biggest champions and have given me the confidence to never limit myself due to gender or age. They also want to see change, as the industry needs talent with new skills to evolve. This is a very exciting time for the next generation to upskill as we see many new technologies hitting the market – it is a great time to enter the industry.
What is your vision for the company and how do you hope to make an impact?
My vision is to evolve our traditional protective services with our strong technology capability to provide our clients and greater communities with next-generation security. It is very exciting to be transforming guarding as we look to our next generation for new skills and backgrounds that combine with security and technology and continue to drive sustainability.
As we continue to grow, our partnerships with community organizations are also important. Since 2020, we have been partnering with Safe Steps whose work is critical in supporting victims of domestic and family violence. We're providing support through annual donations, raising awareness, and volunteering to help make their events safer. Our ambition is to deliver on the Securitas purpose: to help make your world a safer place.
Describe your leadership style
I'm known for chameleon qualities, but If I had to pick one, it would be a strong partnership leadership style. Trust and integrity are important for me and, from this, flows autonomy and confidence in the teams I support and build around me. In terms of my engagement, I do not like traditional hierarchies, as these create information roadblocks. I love to work laterally, create deeper connections and greater synergies and collaborations. This is something that comes naturally to me.
Being people-orientated, culture is important to drive teams. My focus has been to listen, engage, problem-solve, empower, challenge, and give confidence to challenge me back.
What has been the best recognition that you've received as a leader?
The best recognition that I received was when I was told that my passionate drive to learn new things every day and jump out of my lane inspired them to learn something new and to succeed.
What is your message to aspiring women leaders?
Don't be afraid to ask questions, be yourself, and take every opportunity to learn from people with diverse backgrounds. It is also important to challenge yourself and your own unconscious bias and become self-aware, as we need to evolve to solve the problems in both our generation and the next.