Insurance as a risk management tool
Securitas' insurance and claims strategy is to "act as if uninsured". This means that while external insurance is used to protect the balance sheet and minimize fluctuations in earnings, our day-to-day task is to perform our assignment as if we do not have any insurance in place.
Importance of active claims management
Important parts of our risk management work involves taking a proactive approach to the risk Securitas takes on when entering into client contracts as well as ensuring that assignment instructions correctly reflect services provided to client with the aim to prevent claims from occurring. Another significant part of Securitas' risk management work involves active claims management, as well as ongoing claims analysis of losses with the aim of identifying the underlying driving forces in order to set up measures to mitigate future claims and thereby reduce the total cost of risk.
Procurement strategy
Insurance programs are procured with the objective of creating a balanced and cost-efficient protection against negative financial impact. Securitas seeks to achieve economies of scale through coordinated insurance programs and the optimal utilization of the Group's insurance captives. The strategy is to cover the more frequent claims arising in Securitas' own books. First, a local deductible is charged to the branch that has caused the claim; after that, our own insurance companies (captives) cover part of the cost. Using insurance captives gives the Group an opportunity to handle part of the claims process internally, and provides Group Management with an option to establish some independence from the cyclical nature of commercial insurance markets (see the graph below).
The design and purchase of all insurance programs is based on the risk exposure identified using the business risk evaluation model.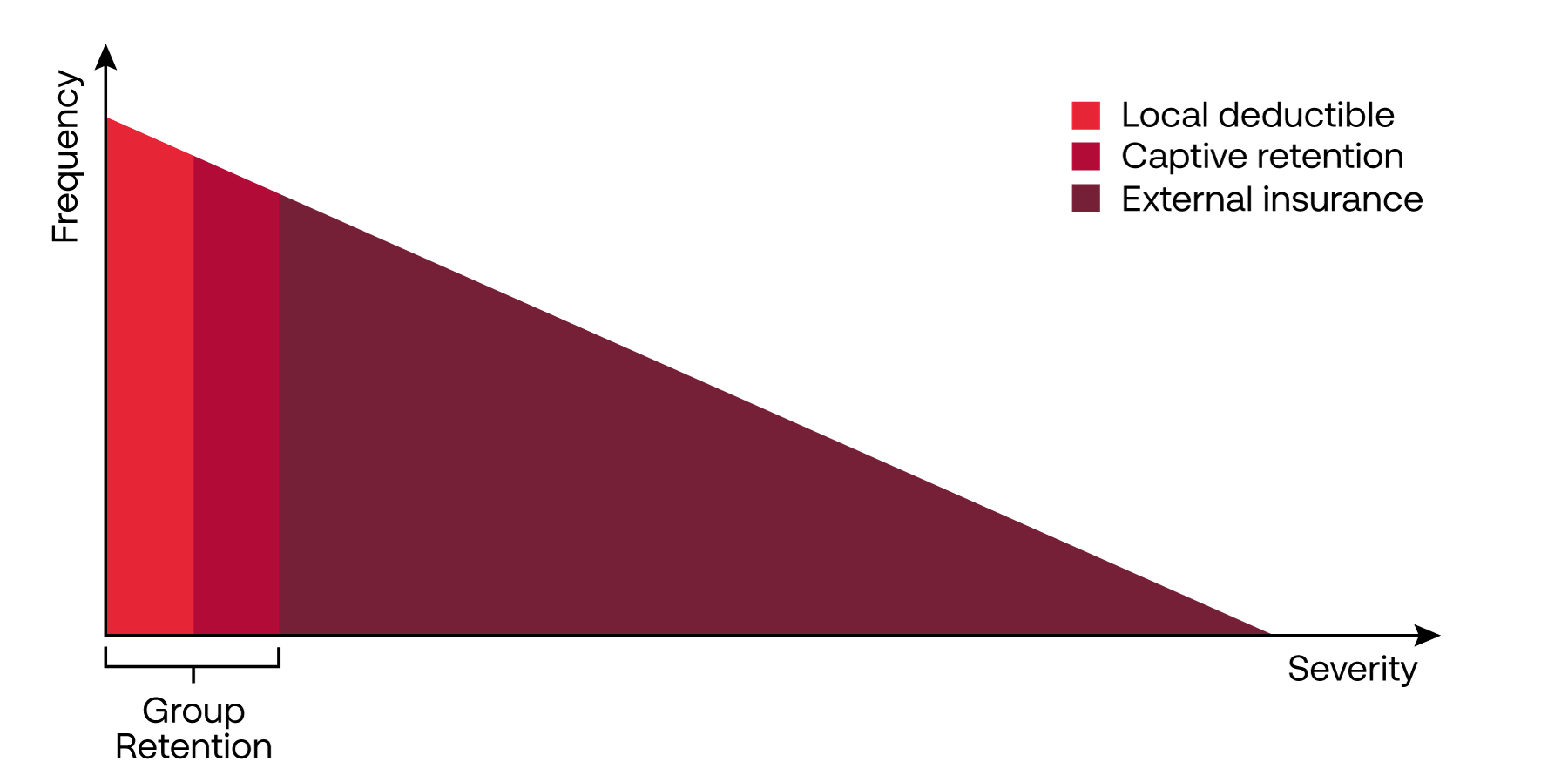 Distribution of risk with respect to claims
The cost for high-frequency claims with a low value are charged to the local subsidiaries as a "local deductible cost" and to Securitas' insurance captives. Non-frequent and larger claims costs are absorbed by the external insurance companies.
Insurance programs
The following types of insurance are strategically important to the Group and are the subject of central purchasing:
liability insurance, including aviation liability, aviation war liability and cyber liability
crime insurance
directors' and officers' liability insurance
fiduciary liability insurance
employment practice liability insurance
Benefits for our clients
An important advantage of our Global insurance programs is that our clients can be confident that Securitas' high-quality insurance cover is consistent in all markets.
Four-step process approach for managing enterprise risks

Click on the links to read more about each step in the process.