Risk management activities
The third step of the process is the risk management activities.
The Board of Directors has the ultimate responsibility for governance of risk management while the accountability for managing risks and for Implementation and maintenance of control systems in accordance with our policies is clearly assigned to management at Group, divisional and local level.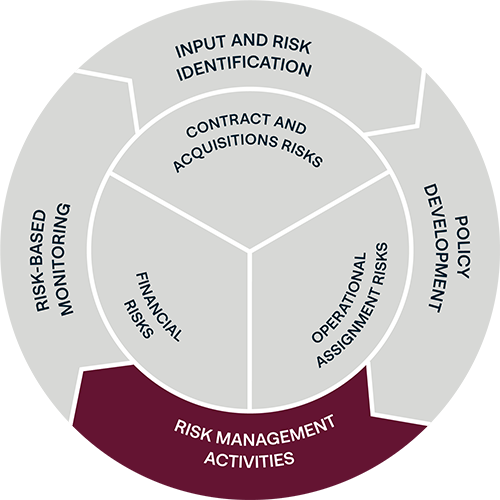 Divisional management are responsible for all aspects of the operations in their divisions, including operational risk management and risk minimization as well as creating risk awareness throughout the division. Operating unit managers and country risk managers are responsible for ensuring that risk management is part of the local corporate culture at all levels within a country.
| | | | |
| --- | --- | --- | --- |
| Principal activities | Branch/area | Countries/divisions | Group |
| Risk assessment | x | x | x |
| Contract management | x | x | x |
| Loss prevention | x | x | |
| Claims settlement | | x | x |
| Insurance purchasing | | | x |

To be successful, all of Securitas' branch managers must understand the risks associated with providing services and be able to assess and control these risks. Securitas actively pursues different risk management activities to increase awareness and knowledge. One important tool is our Business risk evaluation model.