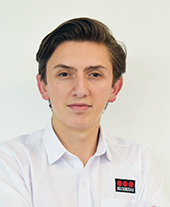 Name: Esteban Jerez Martínez
Location: Bogotá, Colombia
Years with Securitas:
- Security Analyst 2021–2022
- Junior Security and Risk Consultant 2023
My current role: Support in risk management, security consulting services, investigations, intelligence, and analysis of information to develop personalized security strategies for the commercialization and operation of security services.
Topic studied and where: Securitas Intelligence Services/United Kingdom.
Why did you apply for the scholarship?
I had a major need to enrich my knowledge in preventive protection services. I wanted to implement a project in Colombia that would allow us to show the importance of intelligence, consulting, and advisory services. Securitas Colombia is developing well in this line of business, but it still has a lot of potential.
What did you learn/gain from the study visit?
People's different experiences are the most valuable. I talked to them, listened to their business perspectives, learned about security services and gained tips to improve my intelligence skills. We shared all kinds of good practices and learned from the mutual experiences of each country.
How will you share this knowledge/experience within your organization?
We have already started a plan to improve our existing services. We want to focus on more profitable and innovative services. We will be working not only to promote intelligence services in Latin America, but also to improve practices in our commercial, operational, human resources, and marketing departments.
Information about other scholars
Read more stories from previous scholars to learn more about the Melker Schörlig Scholarship.